Avue Technologies Corporation announced in October 2011 the immediate expansion of its successful online employment platform, Avue Central, from federal agencies to private sector companies, state and local governments, and non-profits — free of charge.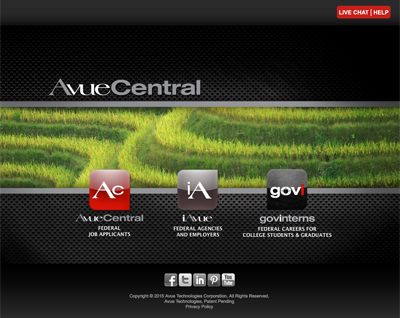 Avue has long been known among federal agency employees as a private company that creates products and services with an intense focus on the user and applicant experience, ease-of-use, and greater worker productivity and efficiency.
Now Avue is bringing the power of its service to everyone.
"We are convinced the times require that information on every job should be made available to everyone," said Linda E. Brooks Rix, co-CEO of Avue Technologies. "We can think of no better way to do that than to allow every employer – federal, state, local, non-profit, and private sector – to post on Avue Central for free."
Avue Central is a reliable, efficient and effective solution, and in contrast to U.S. Office of Personnel Management services like USA Staffing and USAJobs, the John F. Kennedy School of Government at Harvard University has called Avue Central, "the fastest and easiest way to find and apply for federal employment." Avue Central is also affiliated with The George Washington University Trachtenberg School of Public Policy and Public Administration.
Among Avue Central's solutions not easily found with USAJobs 3.0:
• Avue services and products have a 99-plus percent uptime
The intuitive Avue Central platform is all about ease-of-use and responsiveness for users
• Avue Central facilitates the quick connection between the applicant search and the employer position need
• Accurate searches by job title, job classification, department, agency and geography
• Your search settings, resume information and personal information only need to be set once but can be revised at any time
• Personal information is completely safe and secure
At www.avuecentral.com, applicants can search for jobs, apply for opportunities, join talent communities, check their application status, participate in discussion forums, and analyze their skills.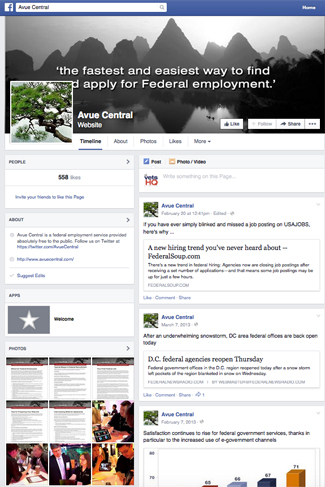 Avue Central is a proven platform with the functionality for applicants to go after the job they want quickly and easily, from veterans to recent college graduates to returning federal employees.
Employers can also create and classify positions, post positions, use templates, manage their openings and candidate pools, and conduct applicant outreach on Avue Central.
"We are proud of Avue Central and are delighted we have the opportunity to radically increase job information to all of its users," Rix said. "We think that together with Avue's social networking capabilities, both at Avue Central and through posting employer jobs also to the employer's social network sites, it's just a great way to post and find a job and network with employers and other job seekers."
You can also follow Avue Central on Facebook, Twitter and Pinterest.
Avue announced in September the new features that enable the company and federal government agencies to post jobs using popular social media and online networking sites. Avue's social media postings combine with the more than 1,600 .edu and .org sites that Avue pushes federal government job information to today. The combined reach of Facebook, LinkedIn, and Twitter means that job information will reach an audience of 1.1 billion users.