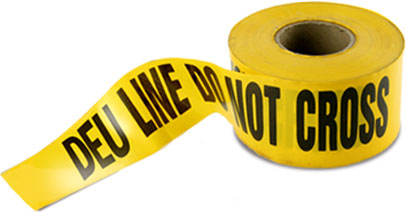 R3 is an emergency management strategy that organizes and manages resources and responsibilities for DEU and HCMAP audit-caused emergencies. It involves rescue, relief, and recovery — each organized to lessen the impact of losing DEU authority or individual DE certifications.  All aspects of R3 are designed to not only restore federal organizations to their previous level of operational efficiency, but improve it and protect the agency from the consequences of losing DE authority.
White Knight Services Home
White Knight Principles
Six Elements for Success
R3: Rescue, Relief & Recovery
P2: Prevention & Program Mgt.
Agency Audits
Click to download our free white paper
Crossing the Chasm: Restoring Your Agency's Human Capital Management Program, Hiring Authorities with the R3+P Program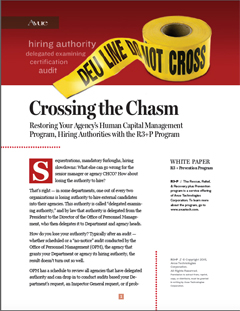 The 3 Phases of R3
1. RESCUE
The response phase of a DE emergency which commences with a "search-and-rescue" phase addressing all immediate issues and audit findings, including early corrective actions. Involves case analysis, reconstruction and implementation of case corrective actions found during the audit. Focus quickly turns to fulfilling existing and identified HR needs of the serviced population.
2. RELIEF
The relief phase begins after the immediate threat and early implementation of corrective actions have subsided. The immediate goal of the relief phase is to bring the HR operations back to some degree of normalcy, which can include processing the agency actions with DE-certified members of the R3 team as well as initial training required to restore DE status.
3. RECOVERY
Recovery is the longest phase and involves instituting and embedding a Prevention, Preparedness and Continuous Monitoring strategy in the organization's policies, business practices and processes. The Recovery phase begins about three-fourths of the way through the Relief phase once more is understood about the organization, threats to its DE authority, processes and operating paradigms.[/iconbox]
Four Streams of R3 Support
1. Operations Support
All facets of support: From posting jobs to creating referrals to helping new hires' EOD; all by DEU-Certified practitioners with the skills, tools, and technology to make it happen in well under 80 days, with full audit trail file management.  Need case file preparation, 100 percent prior year audits, implementation of corrective actions?  Any and all audit or correction action-related work plus support for your ongoing HR operation, all on-demand.
2. Training & Skill Building
The most important part of rebuilding the team and regaining delegation authority is training and skill building for all HCM stakeholders — managers, HR professionals, support staff, executives. Training ensures preventive measures to help keep the agency on track.  R3 offers a full range of custom federal training.
3. Tracking, Reporting, & Monitoring
Every audit comes with a long list of corrective actions – from miniscule to macro. Every action needs to be tracked, files prepared, reports submitted, and ongoing monitoring conducted. This burns precious resources and detract from relief and recovery operations. That's why it's included in – R3.
4. Executive Support & Services
Every senior HCM manager, whether the CHCO or head of Management for the agency, needs a quiet professional to provide sound, non-political advice and judgment. DE audits can raise complex organizational issues within a complex regulatory structure. With R3, that quiet professional comes with at least 25 years of federal HR experience, has been there before and can help navigate difficult circumstances.
Contact us today at (253) 573-1877 for your agency's program review